Download our Product Line Card
The right formula for success.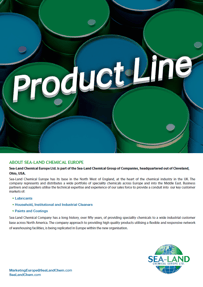 We represent some of the most trusted specialty chemical brands and companies in the industry to provide you with the quality you demand.
We stock hundreds of products, providing you the right chemicals, right away. It's one-stop shopping to meet your needs quickly and simply. And, with our expanded European Sales Teams we're here to meet your requirements for local and global formulations.
Sea-Land Chemical Europe Ltd. is based in the Northwest of England, at the heart of the chemical industry in the UK. The company represents and distributes a wide portfolio of specialty chemicals across Europe and into the Middle East. Business partners and suppliers utilize the technical expertise and experience of our sales force to provide a conduit into our key customer markets of:
Industrial Lubricants
Household, Industrial, and Institutional Cleaners
Paints and Coatings
Sea-Land Chemical Company has a long history of over 50 years providing specialty chemicals to a wide industrial customer base across North America. The company approach to providing high-quality products utilizing a flexible and responsive network of warehousing facilities is being replicated in Europe within the new organization.
Download the line card now by filling out the form on this page.